INternational COmmerce Terminology (INCO Terms) defines exactly the shipping responsibilities of both the buyer and the seller. This table illustrates the cost responsibilities for each party-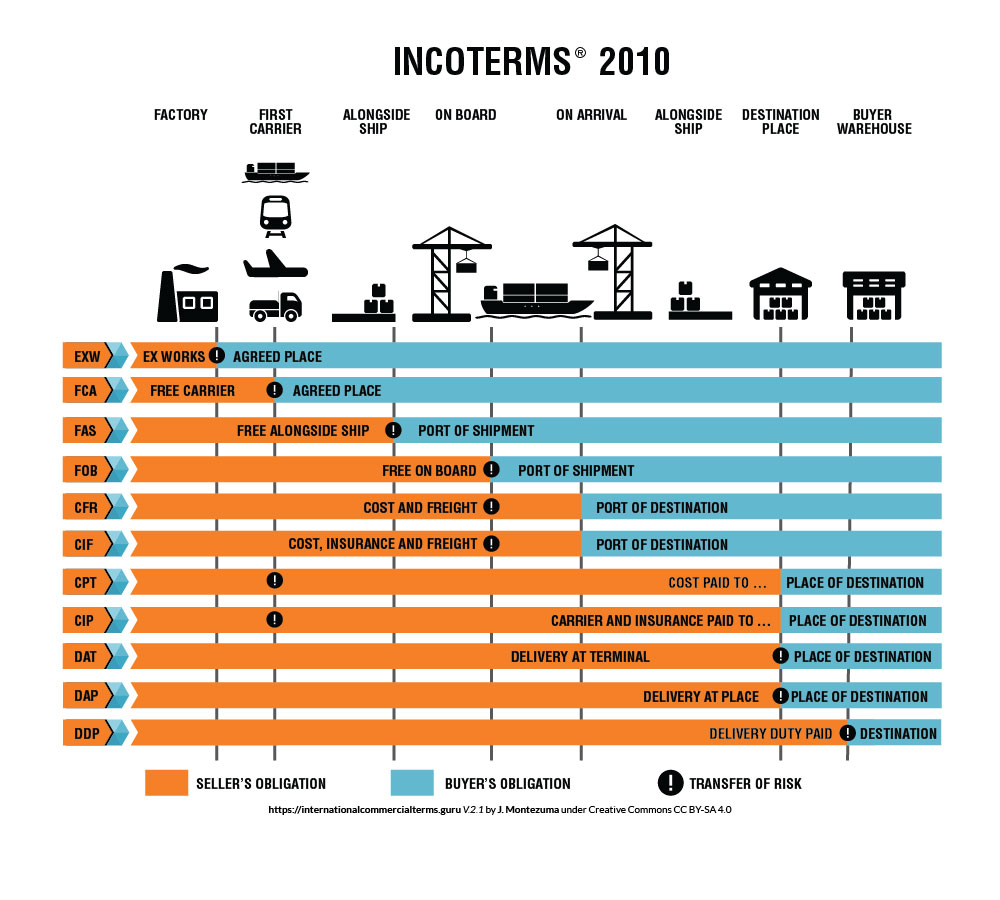 What does this all mean?
Here is a simple explanation of the most commonly used terms:
EXW – Ex Works
Buyer will pay all freight charges from the seller door to the door at destination. The seller needs to ensure the freight is ready for shipping and provide all the correct documents i.e. commercial invoice and packing declaration. The buyer will have full control of the freight.
FOB – Free on Board
Seller will arrange through their freight forwarder the movement of the goods up to the origin port. The goods will then be the buyer's responsibility. Their nominated forwarder will take control from here. Freight and destination costs will be charged to the buyer.
CFR – Cost & Freight
Costs from the seller's door to the destination port will be paid by the seller. Given the seller is responsible for transportation, they also nominate the forwarder. The buyer will take care of the destination charges.
CIF – Cost, Insurance & Freight
Similar to CFR but the maritime insurance cost will be paid by the seller. Insurance cover will up to the destination port only.
DAT – Delivery at Terminal
All charges up to the nominated terminal will be paid for by the shipper. Delivery, Customs Clearance and Customs import charges will be paid for by the buyer. The seller will arrange freight to the terminal through their freight forwarder, the buyer can have their own customs and delivery agent takeover from the terminal.
DAP – Delivery at Place
All charges as well as delivery to the buyer facilities will be arranged by the seller. Customs clearance cost can be arranged by either the seller or the buyer depending on the agreement at the time of the freight booking. Import Duty and Taxes will be paid by the buyer at destination.
DDP – Delivered Duty Paid
The seller will arrange and pay for all freight charges to the buyer's door including customs clearance, duty and taxes at destination. The seller has full control of the shipment.
Choosing the right terms
Each option has its own benefits and risks for both the buyer and the seller.
BENEFITS
Freight Control – Working on tight time frames or stock control it is essential to know where your freight is the majority time

Buyer – EXW, FOB, CFR/CIF Seller – DAT, DAP, DDP

Cost Control – Knowing the cost of the freight will help you work out the true cost of your products

Buyer – EXW, FOB, CFR/CIF Seller – DAT, DAP, DDP
RISKS
Lack of visibility – Stock control

Buyer – DAT, DAP, DDP Seller –EXW, FOB, CFR/CIF

Unexpected costs – Not having the ability you nominate your forwarder can incur additional costs that you haven't taken into account, resulting in loss of profit

Buyer – CFR/CIF, DAT Seller – FOB
Subscribe To Our Newsletter
© 2019 G.E. Logistics. All Rights Reserved.